Crop Protection
We help you protect your crops like they are our own, by distributing field-proven crop protection products designed to sustain your legacy.
SGS PRODUCTS
One Step Ahead of the Unpredictable
At Simplot Grower Solutions we distribute field-proven fungicide, insecticide and herbicide products formulated to defend your fields from the expected and the unpredictable. Our local SGS Crop Advisors understand what is going on in your region and in your fields, and offer personalized advice, products and solutions ready for the unpredictable nature of farming.
SGS PRODUCTS
Trusted Crop Protection Brands
We are proud to distribute crop protection products from some of the most trusted ag suppliers in the agriculture industry. To see if your preferred supplier or a specific crop protection product is in our inventory, contact your expert local Simplot Crop Advisor.
Field-Proven Partners
At Simplot Grower Solutions, we are dedicated to grower success over the long run because we know that farming is more than a job, it is your legacy. That is why we partner with trusted suppliers in the crop protection industry to bring farmers the best products available.
In addition to partnering with field-proven suppliers, Simplot Grower Solutions offers a line of proprietary products, Innvictis™.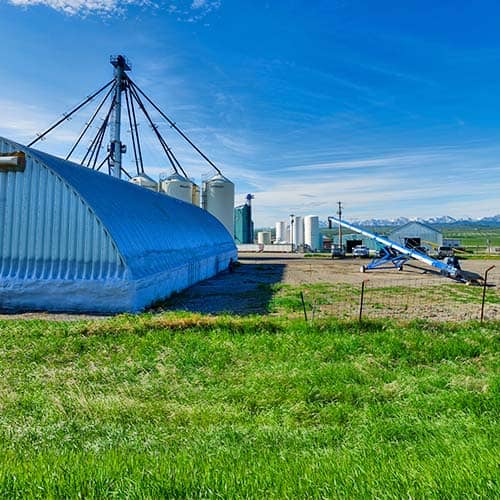 Find a Store Near Your Farm
With locations from coast to coast in North America, Simplot Grower Solutions provides localized services and products that help you maximize yields on every acre.
CROP PROTECTION
Frequently Asked Questions (FAQs)
I want to know if you carry a crop protection product. Who do I contact?

Because our supply fluctuates depending on the time of year and location, if you're interested in a particular product, we recommend reaching out to your local SGS Crop Advisor or you can use our location lookup to find the store nearest you.
Do you carry organic products?

We carry both conventional and organic products. Reach out to your local Crop Advisor to get the best recommendations or use our location lookup to find a store near you.
Can I buy crop protection products in bulk?

Bulk sales may be available for select crop protection products in specific regions based on supply and time of year. For the most current and accurate information, contact your local SGS Crop Advisor or use our location lookup to find a store near you.
How can I purchase crop protection products through Simplot?

You can buy Simplot Grower Solutions crop protection products through your local Crop Advisor or at your nearby SGS retail location. For a list of SGS locations, click here.
Can I buy now and pay later?

Visit Simplot Grower Solutions financial services page and or reach out to your local SGS Crop Advisor to learn more about the financial services that Simplot Grower Solutions offers farmers.
How do I know what crop protection products to use?

Simplot Grower Solutions has access to crop protection products from every basic chemical company, and we even have our own line of exclusive products through our Innvictis™ brand.

For the best service, you should work with your experienced local SGS Crop Advisor to create a custom plan of recommendations for your field. We understand every field has different needs that can change acre to acre. That's why we also suggest using Smart Farm to conduct soil and tissue samples so everyone involved understands what those needs are. When you receive your report, you will see specific rates and product recommendations suited for your fields to help elevate your yield potential.
SGS SERVICES
Cutting-Edge Technology, Data-Driven Agronomy
Financing for Farmers
Put your finances and fields in good hands with our flexible ag finance programs built to keep your operations around for generations to come.